Spiritual Events UK
Are Multiple Award Winners for Psychic & Corporate events UK.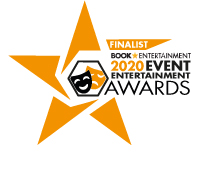 We are Excited to Announce we are a Finalist for the Prestigious 2020 Event Entertainment Awards
We have been chosen as a London's finalist for entertainers at The 2020 Event Entertainment Awards!
Presented by BookEntertainment.co.uk, The Event Entertainment Awards recognises the best in the event entertainment industry across the UK.
Best Entertainer Finalists – Spiritual Events UK
The winners will be chosen by a panel of expert judges and community votes. Since 50% of the final score comes from community voting, we need your support to help us win the award!
Please visit the finalist's page and vote for Spiritual Events UK. Thank you in advance!!!!
You can vote until 7th July 2020 at 11.45pm.
Below are some of our past awards!
Psychic corporate events